The House and Senate have passed an extension of the $8000 first-time buyer tax credit and added a $6500 tax credit for move-up buyers. The Senate is expected to also sign it shortly and President Obama will sign it today signed it on November 6.
This was absolutely necessary because the housing market was slowing down already, due to the planned November 30 expiration of the credit. Here are some answers to questions on the new version of the tax credit. More here.
The text of the HB 3548 can be found by clicking in the box above. (It's pretty tortured language…).
The $6500 tax credit for move-up buyers starts for closings after 11/6/09. Oddly enough,  blogs and websites differed on when the move-up buyer credit started. Some said it started on 11/6/09 and some claimed it started 12/1/09. This has already been in issue in several closings I am handling. It is not clear that the move-up buyer credit started 11/6/09.
Both first-time buyers and move-up buyers can claim the credit by amending their 08 return or they can claim it on their 09 tax return.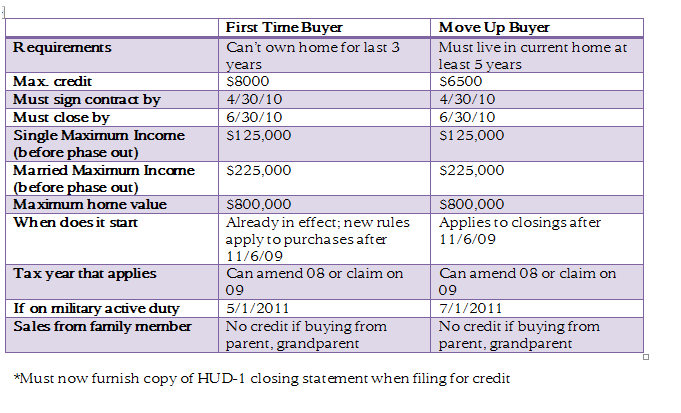 Related posts: