Real estate taxes have remained level or increased while home prices have tanked. With lower home values, clients reasonably expect that they will be able to lower their real estate taxes to reflect the lower home prices. Cook County real estate taxes can be protested at two levels, the Cook County Assessor and the Board of Review. The Board of Review is now open in many Cook County townships and it may be worth filing a petition to lower your taxes. Here's some background on how to undertake such a venture:
Can I protest taxes myself?
Yes, you can file a lack of uniformity complaint yourself with the Board of Review. The website is here and the forms and decent explanations are on the site. A lack of uniformity complaint means that you are claiming that you are not taxed uniformly with your neighbors.
How do I know when it is time to protest my taxes?
The Board of Review is currently accepting tax complaints. It opens by township. Palatine, Wheeling and Elk Grove townships are open right now, but won't be for long. If your township is "closed" it is too late and you will have to wait until next year.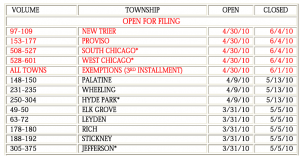 Do you handle real estate tax assessment cases?
No, I don't. This is a specialty area of the law. I usually hire an attorney of my own to try to reduce the taxes on my house in Palatine. In my case, two out of three times, the tax bill was reduced and I was happy to pay someone to take care of the case for me.
What attorney should I hire to protest my taxes?
Most attorneys who handle real estate tax protests send mailings to homeowners when the assessor and board or review is accepting complaints. Some clients think that because the attorney sent a mailing then the attorney is somehow suspect, but that is not the case. All tax protest attorneys send mailings. Most times you sign a retainer agreement and send it in with no or a small payment of $50.00. The fee agreement pays the attorney 50% of the first year's tax savings. This is a contingency fee agreement, so if the taxes are not reduced, you pay nothing. Richard Shapiro in Evanston, (847) 869-8686, and Christopher Walsh in Chicago, 312-372-1155,  are two attorneys I have referred clients to in the past. You will not meet with or talk to the attorney in most cases. The case is all handled through the mail.
Related posts: