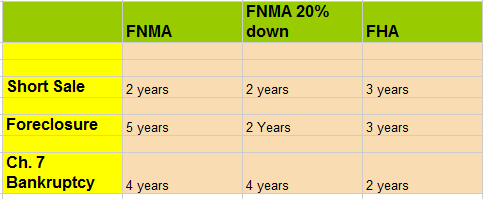 It is possible to get a new mortgage after a short sale, bankruptcy or foreclosure, but it takes awhile.
The chart above tells how long it takes, after each of these events occurs, to get a new mortgage.
The first column labeled FNMA is a standard Fannie Mae, conventional mortgage, and this generally requires a 10% downpayment. The second column labeled FNMA 20% is a mortgage with 20% down. The third column is an FHA mortgage, which requires only 3.5% down, and is the current favorite these days with first-time buyers, because it requires credit of about 610 FICO and is otherwise easier to qualify for compared to conventional financing.
Most clients get FHA mortgages after a bankruptcy, which is only a 2 year wait.
The waiting periods are one thing to consider when deciding how to handle a underwater real estate and whether a strategic default is worth it or not.
Related posts: