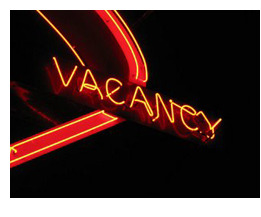 Last week, a client in foreclosure arrived home from a long day at work and found this notice slapped on her front door:
Vacant Posting Notice
This property has been determined to be vacant. This information will be reported to the mortgage servicer responsible for maintaining the property. The mortgage servicer intends to protect the property from deterioration. The property may have its locks replaced and/or plumbing systems winterized in the next few days. If this property is NOT VACANT please call BAC Field Services immediately.
She was pretty alarmed by this and thought that her lender, Bank of America, might try to change the locks and take back possession of the house.  Of course, in Illinois, possession is not given back to the lender until about 60 days after the sheriff's sale. The sheriff's sale isn't until the end of the foreclosure ( about 10-12 months after it starts), so it takes a long time for the lender to get possession.
My client was about 3 months into the foreclosure,  she had a short sale contract signed and the closing date was fast approaching.
I called BAC Field Services and told them the property was occupied and if they contacted my client again she would file a construction eviction case against them. Since this was B of A, I also sent them a direct message on twitter to @BofA_help. As a side note,  B of A twitter help account is very helpful. They respond almost immediately and really try to help you with any foreclosure or short sale related matters. If the B of A short sale department was as good as @BofA_help, then doing a short sale with B of A wouldn't be the god-awful cluster that it is. But that's a post for another day.
These vacancy posting notices are ridiculous. I understand that the lender wants to monitor and take care of obviously vacant foreclosures, but they have no right to bother and annoy owners still in possession of the property. The notices imply that the lender has the right to possession, when they don't have that right.  The notices confuse owners who are already under stress due to a short sale or foreclosure
In one case, BAC Field services entered the property after it was sold to a new buyer.  Welcome to the neighborhood, here's your complimentary lock change and winterization! Oops, sorry wrong house.
If you get a vacancy posting notice, just call the phone number and tell them the property is still occupied. Tear off the sticker and toss it where it belongs.
Related posts: