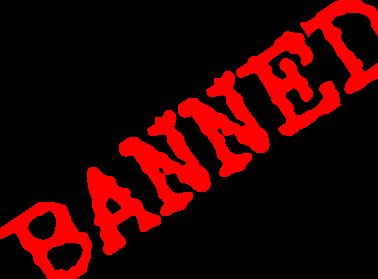 All you have to do is look at my facebook page to see how much I participate in online forums. I'm  mainly a lurker and don't contribute much. It's probably a character defect, or an overreaction to giving the wrong answer to Sister Margaritas  in fourth grade religion class. Man, that ruler hurt.
I'm barely a contributor and certainly not a flame war type of guy, but now I am banned from an online forum. The ban is not temporary, it's for life.
Here's how it happened:
This week I was looking at the statistics for illinoislawnew.net and I saw a bunch of incoming clicks coming from loansafe.org. Loansafe.org is an online discussion forum in which people talk about foreclosure, short sales and underwater real estate. I registered for the site a long time ago and posted one time about a year ago in response to someone asking a foreclosure question. I rarely go to the site, but I do get many hits from this site to my site because users of loansafe.org  post links to things I've written about Illinois foreclosures and short sales.
Here is a typical day and the chart below shows people clicking a link to my site from  the loansafe.org site.

Loansafe.org is an active forum. It's kind of a venting, spill your guts type of affair where people post their personal story about their underwater real estate and everyone else comments on it. Here is a typical example of a post by Miserable In Cook Co. A lot of the "advice" and comments are way off base, but occasionally there is a reasoned, accurate response. You see a lot of comments like "all attorneys are stupid" and "I will never deal with a bank again."
Anyway, I clicked on a link from Loansafe. org  to this post that I wrote about how collection cases on  second mortgages are a bigger risk than deficiency judgments.  The moderator, some goof named Tom Eason, commented on my post saying.  "That is the site of Tom Sammons, a solo attorney bankruptcy mill." Then he wrote, "Doesn't he sound like a typical bankruptcy mill lawyer , LOL." Tom felt that I was encouraging everyone with an underwater home to file bankruptcy.
Tom is a volunteer moderator who lives in California and hands out advice across the country to everyone and anyone. In fact,  one would think that he had the wisdom of a thousand  Buddha's from the way he holds forth.
I was not happy to see  this guy trashing me. I responded  back with a post that I was not a bankruptcy mill and that my second mortgage post was accurate. Tom, the moderator, never responded. The site administrator deleted my response and when I logged in I saw this: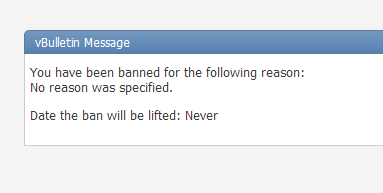 If I were a character in my favorite show "Game of Thrones," the shame and dishonor of a lifetime ban on Loansafe.org would have forced me to join the Nights Watch (a group of rejects who can't have girlfriends and are forced to protect the kingdom against encroaching monsters). Sometimes I think it might be easier to fight whitewalkers all day than to  practice law. But I live in suburban Palatine, not Winterfell, so I soldiered on.
Now having recovered emotionally from my lifetime ban, I wondered what should you watch for when reading online about underwater real estate?
1.  Beware of the closed ecosystem. Most forums  value healthy discussion. They monitor posts for vulgarity and stop hostile flame wars, but that's it. Loansafe.org edits out any post that threatens its self-appointed expert status. After I was banned, the moderator of the site went back and tried to clip out all of the links to my site, but she missed a bunch of them.
2. Don't take advice from out-of- state experts. Real estate is hyper local. I would never give advice to anyone outside of Illinois. Be very careful about taking advice from out-of-state, non-lawyers about your underwater property.  It's a complicated topic and you want to be sure to get a balanced view on your case.
3. Diaries written by others are cathartic for the writer, but won't really help you . One thing I have learned by doing phone consultations with Illinois clients on underwater real estate is that every case is different and you need to know a lot of details to give the proper guidance to a client. Reading about someone else's journey through foreclosure is interesting and all, but it will rarely help solve your problem.
Related posts: