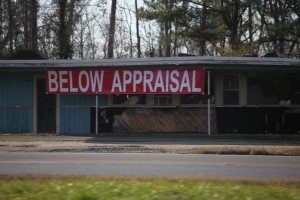 Last week, I had 6 properties appraise for less than the contract sales price. It 's not real fun when this happens. No news is good news when it comes to appraisals, but when I get an email with an appraisal attached I know things are about to come unglued.
Seller's instant reaction = "I am getting scr**** by the buyer's lender and I am NOT cutting the sales price." The seller's  second stress induced reaction is "I'm going to "fight the appraisal" (good luck with that, tiger).
Buyer's instant reaction = "I can't believe I overpaid for the casa of my dreams and I hope the seller doesn't cancel the contract."
Fortunately, the amount by which these properties under appraised was between $5000.00 and $14,000.00 and the parities were all sensible. All of them were resolved without tanking. Half of them "met in the middle" and for the other half, the seller reduced the price to the appraised price.
Usually when a property appraises low, I estimate that about 75% of the time the end result is that the seller cuts the price to the appraised price. If the appraisal is for an FHA loan, the seller will be stuck with that appraisal for 1 year even if the contract cancels (and a new FHA buyer comes in).
I find that it is nearly impossible to "contest" the appraisal. Appraisers rarely change the result of an appraisal. There is supposed to be no way to communicate directly with the appraiser. I find that when the parties try to contest the appraisal that 2 to 3 weeks are wasted while the loan processing comes to standstill and closing is delayed.
The spring market has been very fast moving with multiple offers on many homes within a day or two the listing hitting the internet. I've seen a lot of contracts at or over list price. Sellers are getting more for than they expected in some cases and there are not the comparable sales to support the appraisals.
If you are a buyer be sure to add an appraisal contingency to the contract. The mortgage contingency will act like an appraisal contingency unless you are putting a ton of money (50%) down and then it won't work and you need a separate appraisal contingency. If you are a seller, just be aware that selling for list price is cool, but it may be cut after the appraiser trots through.
Related posts: